Accessibility in laboratories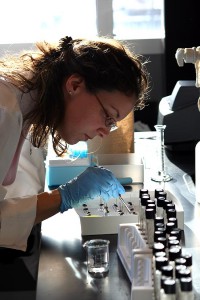 Laboratory situations can be particularly challenging for a student with a disability. Reaching equipment, reading labels, seeing the instructor or demonstration may be challenging. Some tips for improving accessibility in the lab:
Label equipment, instruments and chemicals in large print or Braille for students with visual disabilities;
Assign the person with a disability a lab partner or buddy. Arrange for an orientation to the lab layout in advance of the session if warranted;
Ensure that your face is visible to the hard-of-hearing or deaf student when you're giving explanations or demonstrations;
Providing accessible lab and computer equipment may require an adjustment of table heights;
The student may require specially adapted equipment. Consult Student Accessibility Services regarding such a requirement;
Provide lab manuals and other materials in advance in print or alternate format if required; and
Accompany demonstrations by detailed descriptions.
As all academic programs have very different requirements and all students have different strengths and challenges, the most important aspect to consider is to always communicate things clearly. Student Accessibility Services staff are available for consultation.