AODA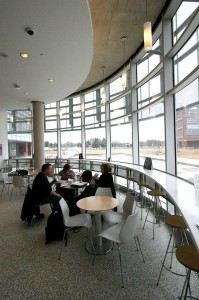 At Ontario Tech, we are continually working towards meeting our obligations under the Accessibility for Ontarians with Disabilities Act (AODA), to ensure an equitable and inclusive learning and working organization. The purpose of the AODA is to achieve a fully accessible Ontario by 2025.
The legislation has five standards:
Customer service;
Employment;
Information and communication;
Transportation; and
Built environment.
As such, Ontario Tech has initiated practices to further educate its faculty, staff, contractors and volunteers by broadening awareness of the full spectrum of disabilities and developing standards for an accessible campus.
Customer service standard
The customer service standard requires that training be provided to all those who deal with the public and/or participate in developing policy, practices and procedures related to the provision of goods or services to the public. Ontario Tech developed a training program that included both in-house and online sessions. This program includes training on issues such as how to interact and communicate with individuals with disabilities, with persons who use an assistive device or require the assistance of a service animal or support person. It also includes what to do to assist a person with a disability who is having difficulty accessing goods or services. In-person training was conducted following a Train-the-Trainer model. Ontario Tech also adopted an e-learning Customer Service Standard training module that was developed by the Council of Ontario Universities.
Integrated Accessibility Regulation (IAR)
Comprised of three parts, the IAR includes the Employment, Information and Communication and Transportation standards. It sets out the requirements for policies and practices, the development of accessibility plans and the establishment of a feedback process. It also requires the continued training of employees and volunteers, depending on their roles.
Employment

In this standard, employers are to ensure the accessibility requirements of paid employees are administered throughout the entire lifecycle of employment – recruitment, return to work and redeployment. Accommodation plans may have to be developed for those employees with a disability.
Information and communication
This standard requires the provision and arrangement for accessible formats and communication supports which are to be done in consultation with the person making the request – at no additional cost. It does not mean that organizations have to have a variety of different formats available but must have the means to provide them in a timely manner upon request. Deadlines have been set out for the mandate of accessible websites and other online resources such as e-books. It requires the training of all teaching staff in accessible instructional techniques.
Transportation
In this standard, specialized as well as conventional transportation providers are to be fully accessible. See the standard for details and dates for compliance.
Built environment
The fifth part of the AODA concerns the built environment, and more specifically, the design for public spaces. Specifics on the built environment accessibility standards that concern the removal of barriers from buildings will come into force through updates to Ontario's Building Code, which governs new construction and renovations.