Events and presentations
Events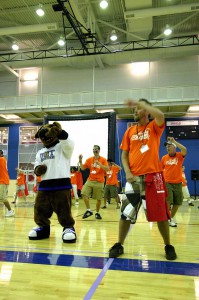 When planning an event, organizers need to consider the wide diversity of those who may be attending. Some of the participants may have difficulty seeing, hearing, moving, speaking or accessing the information being presented. Be respectful of participant needs – they want all the information that others have. If you have an unknown audience, say at a conference, ensure your materials are available in alternate formats.
Here are some tips to provide a more accessible event:
Ensure the venue and washrooms are wheelchair accessible;
Ask speakers if they have any accessibility requirements;
Ask participants if they have accessibility requirements. This can be done with a question on the registration form;
Ensure adequate sound and microphones. You may have to arrange for American Sign Language Interpreters, assistive listening devices, real-time captioning or other accommodations;
Ensure good visibility of the speakers and interpreters;
Consider accessibility when planning the schedule. For example, is there enough time for those who may have mobility issues to get from room to room? Ensure sufficient breaks for medical needs. Inform participants of a change in the schedule;
Have handouts available in accessible formats – for example, in paper but also available digitally as an HTML document or RTF easily downloaded from the web; and
Have materials available online ahead of the event, if possible.
Presentations
Speak clearly in using simple language rather than jargon;
Pause between points to allow people to process the information;
Ensure sufficient lighting so that people can see your face. Don't turn your back to the audience when speaking;
If there's a microphone available, use it; and
Cover all the information on your slide. Don't assume people can read it or interpret your images. Describe your images on the slides.