Universal Design for Learning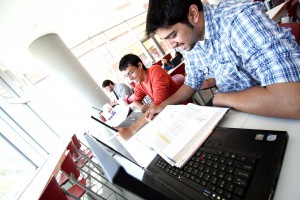 Universal design is a principle that is used in many fields, from engineering to art. Universal design ensures that what has been produced whether it is a building or a product can be used by the widest group of people including those who may have a disability. Universal design for learning (UDL) continues this practice into the classroom whether it is on campus or online. Learning materials, methods, assignments, evaluations are created to ensure that all students have the opportunity to participate fully. UDL is not a method of accommodating students who have a disability – it goes far beyond that. It incorporates a variety of methods that enable all students to learn and express their learning using an array of techniques. One size does not fit all and UDL encourages flexibility in delivery and design of learning so that all students benefit.
There are three main components to universal design for learning:
Faculty represent information and concepts in multiple ways (and in a variety of formats).
Students are given multiple ways to express their comprehension and mastery of a topic.
Students engage with new ideas and information in multiple ways.
The National Centre on Universal Design provides many resources to assist faculty members in course development and design:
UDL may seem challenging, particularly when dealing with large university classes. However, technology provides many opportunities for incorporating UDL principles into teaching and learning. The faculty member does not have to create the materials, but instead can offer links to materials provided online, in textbook e-packs or in learning object repositories, to name a few. In this way, the concept is explained or demonstrated in different ways, providing opportunities for more students to understand the concept.
Using UDL principles, students are given a choice regarding assignments (we know what you are thinking – this will increase the marking required.) The marking has to be done at any rate, but offering students a choice enables them to provide to you the method that best demonstrates their comprehension of the concepts. That being said, if the purpose of the assignment is to learn how to write a report or develop a working prototype, other methods for completing the assignment such as creating a video may not be appropriate. UDL evaluations work best when students are to demonstrate their knowledge of concepts such as their understanding of particular issues or problems, or their ability to analyze particular issues. Providing alternatives to completing the assignment enables them to choose how they can demonstrate their competency to the instructor. It may mean writing a paper, creating a video, designing a poster, making a model. As the instructor you are to determine how well they understand the concept but the rubric or criteria used to mark each assignment can be the same.
Research has determined that active learning can increase a student's understanding of the concepts. When students are involved or engaged with the content – when they touch, react to it, analyze it, discuss it – it can provide deep learning. The more contact they have with the content, the deeper their understanding.
For more information about incorporating UDL principles into your teaching, please contact the Teaching and Learning Centre: teachingandlearning@ontariotechu.ca.